A year ago this month, Vertafore announced the acquisition of AgencyZoom, a sales, marketing, and service automation solution for insurance agencies, to strengthen Vertafore's already robust offering for agency customers.
AgencyZoom's easy and intuitive platform provides producers with technology that drives new business and growth for their agency. The solution enables them to be more efficient with their time, follow up faster with their clients, analyze and incorporate data and insights into their decision-making and ultimately drive faster growth.
From the release updates to the award wins, much has happened in the past year with AgencyZoom. Join us in looking back at a successful year:
Major AgencyZoom feature releases
Learn about the following major feature releases on AgencyZoom since the acquisition:
The

Video Platform: Marketing and Quoting tool

creates a new communication channel between agents and their customers by recording and attaching videos to outgoing emails to improve outreach, response, and customer satisfaction. It is simple yet effective, and tightly integrated with AgencyZoom's automation engine and analytics.

The new

Service Center

brings the employee enablement and customer journey our customers love from sales to service.
New integrations to improve digital experience
Various new integrations introduced to AgencyZoom now allow users to:
Integration enhancements within AMS360
Recent integration enhancements within AMS360 offer the following capabilities:
Sync service requests to AMS360 with their related policy number.

Access AMS360 policy declarations page from the AgencyZoom policy card.

Increase performance and new field mapping for commercial business with AMS360 database operation changes.

New filter options for reporting such as department and group.
Integration enhancements within QQCatalyst
Recent integration enhancements within QQCatalyst offer the following capabilities:
Ability to push contact agent and CSR to QQCatalyst.

Ability to retrieve new and modified policies from QQCatalyst through performance enhancements.
More enhancements on AgencyZoom
Ability to assign a lead, customer, or policy to multiple producers (executives) and/or multiple CSRs.

Ability to select a business type focus (personal vs. commercial) – the default interface when adding a new lead or customer.

Ability to add notes and tags to a specific policy.

Disaster/Singular event automation and zip code-specific automation added to respond to regional changes, disasters, etc. by email or text.

Customer custom fields

for templates and automation.

VOIP default choices

and multi-vendor support allow users to choose individual VOIPS for calling and texting

.
An award win for InsurTech leader AgencyZoom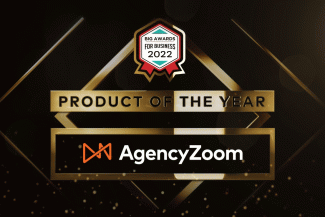 As a fantastic birthday present, AgencyZoom was recently honored with a BIG Awards for Business award in the "Product of the Year" category! This award recognizes products that are leading their respective industries into new territories and beyond. We are incredibly proud to see AgencyZoom earning recognition for its ability to empower the insurance agent and create a more connected modern agency.
To see more information on what Vertafore has accomplished after one year with AgencyZoom, click here.