By: Sharmila Ray
Over the past five years,"digital disruption" has been the talk of our industry. From doomsday prophecies about the death of the independent agent to ambitious InsurTech startups hoping to wipe out the largest legacy carriers, the idea that something ground-shaking is about to happen has been central to the conversation around small commercial insurance.
Despite the talk, the hype, and an enormous amount of investment money flowing into InsurTech ($5.59 billion in 2019 compared to $2.72 billion in 2015), the world today looks fairly similar to 2015. The untapped opportunity I spotted then still exists now. This raises questions: Did anything really change? Will the predictions around a technology-driven shift in the way people buy commercial insurance come true any time soon?
I believe they will. Let's examine in more detail the situation I saw in 2015 and the reasons why the pace of change has been slower than anyone anticipated.
Small commercial lines insurance circa 2015
When I worked at McKinsey & Company in 2015, my colleagues and I published a white paper on the behaviors and preferences of small commercial insurance buyers based on extensive interviews with, and a survey of, more than 1,500 small business insurance consumers.
Some of our key findings included:
Nearly half of small commercial insurance buyers do switch carriers, or would, if given an opportunity where the process was easier and faster.
Seven small commercial insurance buyer segments exist with distinct buying preferences and behaviors. Within three of these segments, more than 70% of buyers responded that they were at least "somewhat interested" in buying insurance direct from a carrier.
Of the 60% of consumers who responded that they were "interested" in a direct-purchase experience for commercial insurance, nearly 80% were most interested in being able to obtain a quote digitally and in real-time.
While consumer demand for a digital research, quote-and-bind experience — either through a carrier or agency — was clear, it far outstripped the availability for such an experience. Based on these findings, the recommendation was: build it (a digital shopping experience) and they will come.
Also based on these and other findings, the paper made two predictions:
First, "innovative new firms — carriers and intermediaries alike — are primed to leverage their digital sophistication and legacy-free models to tap into the market" and that this would accelerate.
Second, that "direct and pseudo-direct channels could represent 20 to 25 percent of premiums and 30 to 40 percent of small businesses in five to ten years."
Barriers to large-scale insurance transformation
It was clear in 2015 that the landscape was ripe with opportunity. So, with the hindsight of five years, where do we now stand? Have we moved the needle towards the digital shopping and buying experience consumers wanted?
Bluntly, no. On the one hand, dozens of InsurTech startups have emerged, focused in on very specific issues along value chain.  On the other hand, I had predicted that 20–25% of premiums flowing direct by 2020, up from 18% in 2015. However, the most recent data available from the Insurance Information Institute indicates we were still hovering in the 18–19% range in 2018 (adjusting to exclude exclusive/captive agency business).
The holdup can be primarily attributed to three factors:
Carriers do not want to upset the independent agency apple cart. Carriers value their relationship with independent agents and, while they want to appeal to the modern consumer, they are cautious not to upset their distribution partners by stepping, or appearing to step, too far into the realm of marketing straight to the small commercial-lines buyer. Those carriers that are committed to the independent channel, continue to express concerns around being "spreadsheeted" i.e., exclusively price-shopped, if they participate in any comparative rating solution for commercial lines.
Organizational silos delayed the build-out of digital capabilities in commercial lines. In 2015 major carriers were largely organized with separate divisions for personal and commercial lines. Only in the past few years have they begun to appreciate the similarities in consumer buying preferences between these lines. Several large carriers have since reorganized to more easily leverage their personal lines customer experience expertise, infrastructure and digital capabilities for the small commercial market.
Big players are waiting for someone else to make the first move. Very few, if any, industry participants have the ability to single-handedly move the market. Instead, it will be more of a coordinated shift, with a leader or group of leaders making the first move. While we have yet to reach a tipping point, InsurTech startups, large broker platform providers, and the largest carriers and brokers have all been independently investing in digital capabilities which, when connected together, will have powerful impact. They know that when the market tips, it will happen quickly. Therefore, they remain cautious about tipping the market before they are ready.
What's next: Opening the InsurTech floodgates
While there has been relatively little change in the way small businesses buy their insurance over the past five years, the groundwork for a large-scale shift is mostly laid. The shopping experience in personal lines, and certainly most financial services, has continued to become quicker, easier, and more high-tech. Small commercial lines buyers are more ready, even impatient, for this shift to take place.
Key stakeholders in the channel — carriers, brokers, and broker platform providers — are also more ready than they were in 2015. Concerns that leading carriers have had around channel conflict and "spreadsheeting" are being replaced by appreciation for the fact that the industry must find a way to meet consumers' need for digital sales and service. In fact, agencies and brokers are leading the charge for change. In response, carriers have been building commercial lines APIs that will allow them to plug into the agencies' and brokers' evolving technological landscape.
More importantly, strategic partnerships are forming between the largest carriers, brokers and leading technology platform companies to position for imminent change in the commercial insurance buying experience. The agency platform providers who are already plugged into hundreds of carriers and tens of thousands of independent agents have been working diligently to install the plumbing that will connect the new carrier APIs to the broker platforms. This is the final step that will allow commercial transactions to be processed faster and smarter than ever before.
A better experience for consumers, brokers, and carriers
These changes, when they take effect, ultimately mean that business insurance consumers will be able to easily gather information, obtain quotes, comparison shop, and self-service their policies on their own or with an agent or broker. The quote-to-bind process for small commercial policies will take minutes and hours — not days and weeks. This translates to a significantly differentiated consumer and broker experience and above-market new business growth and retention rates for carriers and agencies courageous enough to lead.
After five years of groundwork, I predict that we will see a tectonic shift in the next two years. We will see new and exciting carrier-broker technologist coalitions form, new digital commercial lines capabilities come to market for independent agents and consumers, and the industry experience a fundamental shift in how commercial lines is bought and sold.
The small commercial lines consumers are ready and waiting, while established industry players are cautiously perched. The bottom line is, the transformation you've been waiting for is coming — are you ready to get on board?
---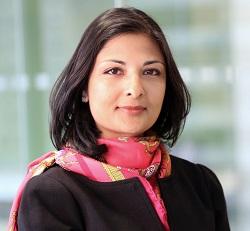 Sharmila Ray is a veteran insurance industry management consultant and expert with decades of experience helping agencies and carriers succeed through technology-based strategies. Prior to joining Vertafore in 2017, she spent 12 years with McKinsey & Company, where she led over 30 engagements and research for the North American Insurance Practice across property and casualty and life insurance carriers and distributors. Sharmila heads up Vertafore's carrier solution strategies and specializes in helping each member of the insurance value chain leverage technology for increased profitability and growth.